It's All Journalism is a weekly conversation about the changing state of the media and the future of journalism.

---
Citizen Koch
, a title that makes a none-too-shy nod to Orson Welles'
Citizen Kane
, similarly aims to show the far reaches of big money in society, and specifically how the Supreme Court Citizens United decision opened the flood gates by deregulating campaign funding.
Carl Deal and Tia Lessin, co-producers of Fahrenheit 9/11 and Bowling for Columbine, are the documentary's filmmakers. They say their galvanizing moment came after trying to visit a fundraising retreat in Palm Springs, California, in 2011 hosted by the Koch brothers.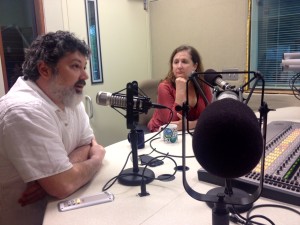 Documentary filmmakers Carl Deal and Tia Lessin talk to It's All Journalism about their struggles in getting their film Citizen Koch made. (Photo by Megan Cloherty)
CEOs, Supreme Court justices, pundits and politicians were all on the guest list. The Koch brothers were putting together a network of conservative billionaires.
"We were curious to see what their agenda was," Lessin said. "We were promptly thrown out."
Failure to gain access had the opposite effect on the two, inspiring them to follow the money trail and dig deeper.
Deal's brother is a state employee in Wisconsin, and he tipped the filmmakers off in 2011 that things were brewing with the pending face-off between state workers and Gov. Scott Brown (R-Wis.).
Deal and Lessin grabbed their cameras and headed there.
What they ended up capturing on film were very personal stories. The fast-growing Tea Party movement was visibly causing a divide within the GOP, and Scott Brown's anti-public union measures were alienating lifelong, working-class Republicans in Wisconsin.
"There's a whole landscape of republican voters out in the heartland that aren't represented," Lessin says.
With their project in-progress, Deal and Lessin needed to find funding money and a audience platform for Citizen Koch.
They quickly got interest from PBS and Independent Lens, the network's documentary series funded by the Independent Television Service (ITVS) — the arm of public television that funds and distributes independent films. ITVS gave them an air-date.
"They loved the film," Deal says. "We had a great partnership for a good six, seven months. Then the you-know-what hit the fan."
"It was a surprise to us then, when we found out, that David Koch was on the board of trustees of two major PBS stations," Lessin says. He is a funder and trustee of Boston's WGBH and New York's WNET.
Koch has contributed about $23 million to public television.
Once ITVS executives got wind that there was another Koch documentary in the pipeline — the first being Park Avenue, a film from Alex Gibney about the American Dream named after the most expensive apartments in Manhattan, where David Koch lives — they became skittish.
In fear of losing big donation money, ITVS pulled funding for Citizen Koch. "Public television killed the commission, killed the funding for our film, and killed our broadcast partnership," Lessin says.
Investigative reporter Jane Meyer detailed the story behind PBS' handling of Park Avenue and Citizen Koch last year in The New Yorker.
Without ITVS funding, the filmmakers needed to raise $150,000 to settle their debts.
"We turned to the crowd," Lessin says.
Around 3,500 people contributed to their Kickstarter campaign. They ended up making more than ITVS was slotted to give them.
More than anything, Lessin and Deal hope their film gets people talking.
Funding hiccups are part of the tough landscape for independent filmmakers, Deal says.
But Citizen Koch's story is unique and ironic. The filmmakers experienced first-hand the long reach of big money that they set out to illustrate.
The film opens in Washington, D.C., on June 20 at West End Cinema. It's playing in 50-some theaters around the states all summer. See the schedule here.
Citizen Koch not playing near you? Lessin says if you can get 25 of your friends to reserve tickets as a group, you can arrange a screening at a theater near you.